Choosing the right lube for you
Lube is always a good idea. In working with hundreds of people each year at my practice and in group therapy, I have seen how this humble product can single handedly transform sex lives. Lubricant can be used to help make sex even more pleasurable, and it should be used every single time you explore foreplay, sex avec toys, outercourse, penetrative sex, masturbation, le génital massage and really anything you like - lube is designed for all persuasions and occasions. It works to reduce friction between you and another person, object or body part in any sexual experience and add to the sensations of pleasure.
Some people may use it when they experience dryness, or if they feel their body doesn't lubricate sufficiently, which can lead to discomfort or pain during sex. And whilst it is the ideal remedy to these painful or uncomfortable experiences, I want you to know that lube is for everyone! Each human is different, and has a different idea of 'sufficient' lubrication too, so remember that you don't need to (and you shouldn't!) rely solely on your body to 'naturally' lubricate, oh and spit is not an effective lube! There are products that are perfect for you.
But how do you know which will satisfy your needs? To help you find the best lube without having to buy and test dozens of bottles and tubes and packets and fall for empty promises that leave you lying in a pool of sticky mess... I've done the work for you.
Water-based lube is your safest bet to start with. It can be used for all of your sexual needs: solo sex, penetrative sex, and sex toy play. Water-based lubes are also ideal for people with sensitive skin or vaginal irritation, and can be used with condoms and sex toys. They are also really easy to clean out of sheets and clothes, and won't leave a stain. Water-based lubes are not so great for water-play or shower sex, as they will just wash away.
Water Based lube is perfect for:
All sexual experiences
Ideal for those with sensitive skin or irritation
Safe to be used with condoms and toys
Easy to clean
Oil-based lube also provides a sensual gliding feel that lasts longer than water-based lube. These lubes are ideal for solo, penetrative sex (without condoms), and water-play. Oil-based lubes can also be used for a sensual full body massage. Oil-based lubes should not be used with latex condoms, as they can dissolve the latex of the condom and may cause latex condoms to break. Latex diaphragms and latex sex toys should also be also kept away from oil based lubricants.
Oil-based lube is perfect for:
Long lasting pleasure
Waterplay - in the shower, bath etc
Full body experiences aka massage
Those who like silky, gliding sensation
Ingredients To Avoid & Look For
Ingredients To Avoid:
In general, avoid any lubricant that contains any artificial flavors, colors, sugars, additional additives, or glycerine - these aren't body safe and shouldn't be used internally. These ingredients actually 'dry out' the vagina and genitals overtime so it's pretty counterintuitive. If it's your first time using lube, some of those extra features like "warming" or "tingling" can feel too overwhelming so you may be better off trying a waterbased or oil based product first. Also, just because a product claims it's "natural" it doesn't necessarily mean it's free from nasty chemicals.
For a truly natural lube make sure its free from these ingredients:
Parabens
Animal products (Casein)
Synthetic Colourants
Petrochemicals
Synthetic Flavouring
Glycerin
Gluten
Fragrance
Ingredients To Look For:
Lucky for you, you don't have to look any further. Frenchie Oh La La Love Lube's are long lasting natural lubricants that are pH balanced, featuring our Australian native botanical formulation. These native botanicals assist with moisture retention, anti-inflammatory, anti-fungal and skin regenerative support. Say oui oui to:
Natural Water Based Aloe Lube
100% natural, vegan & cruelty free
Made in Australia with love in a TGA/GMP facility
pH Balanced formulation
Latex friendly for use with Frenchie Condoms
Hypoallergenic
Toy friendly
Glycerin & Paraben free
I hope this check-list makes investing in one of the most essential sexual wellness products easier for you! Let us know how you go!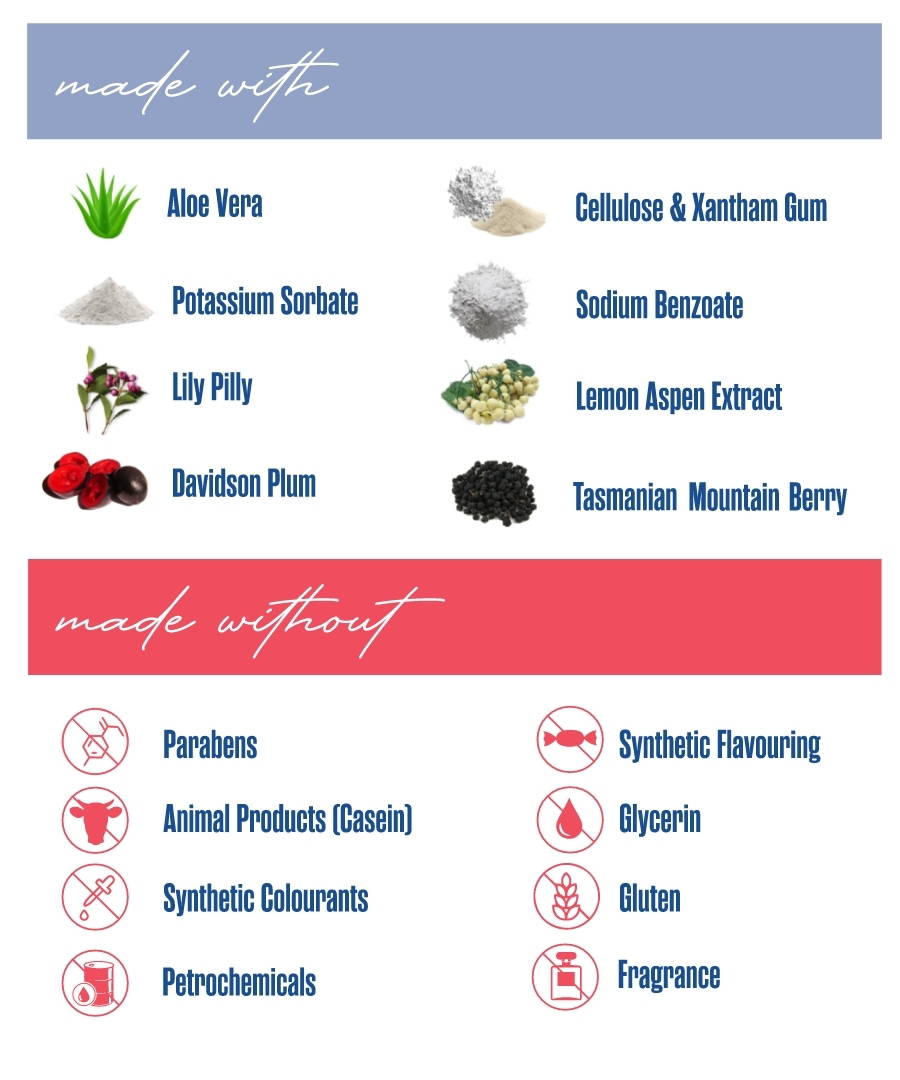 ---