how this bubbly drink has become the symbol of love and celebration
Champagne: As a bubbly beverage that's become synonymous with celebration, it's no surprise that this effervescent liquid hails from France.
Not to be confused with 'sparkling wine', Champagne, by law, must come from the Champagne region of northern France. To save yourself from any social faux pas, it's important to know the difference between true Champagne varieties and their sparkling wine cousins.
Saunter down the Champagne aisle of your local liquor store and you'll find yourself in good company, surrounded by the biggest names in the business (and most fun to say - French accent mandatory). Some of the most well known varieties are Dom Pérignon (our second favourite 'Dom'), Veuve Clicquot, Champagne Taittinger and Moët & Chandon, the latter being the largest Champagne house in the world.
When it comes to Champagne, it's no secret that you're looking at a higher price tag than other sparkling wine varieties. Why? Two reasons.
The first is attributed to the grapes themselves. French winters can bring an icy frost, and while it may provide perfect conditions for cozying up by the fireplace, the frost is less than ideal for the region's grape crops. If the crops are harmed, the prices of the treasured fruit necessary to produce Champagne are hiked up, which is then passed on to the final product.
The second reason that Champagne costs more is due to the many hours of manual labour required to produce it. It's no secret that the French are good with their hands, and this is even more true for the pickers in the Champagne region. The use of machinery in the picking process is forbidden by law, meaning that countless hours of manual labour are required, unlike with other wine varieties. The secondary fermentation process, Méthod Champenoise, also requires hundreds of hours of manual labour, and then years of aging, before the bottles can be released.
So while it may cost you a pretty penny, you can sip and savour the liquid gold, knowing just how much love has gone into each and every drop.
Linked to historical figures throughout history, Champagne is the celebratory drink of choice for anyone who's anyone.
Although the fizzy wine was originally deemed less desirable than the classic red and white varieties, this all changed when the elite in Georgian England got a taste for it. Before long, barrels of bubbly were travelling from France to England, and from there to other European countries. As nobility in France and England became fond of the limited drop, it became one of the most luxurious wines on the market.
Pop Culture (pun intended)
Champagne eventually became more accessible to the masses, not just nobility. However, the price tag still puts it out of the daily budget for most. For this reason, Champagne soon began being referenced in pop culture to affirm status and symbolise a lifestyle of luxury.
Although he may be best known for his taste for martinis (shaken not stirred) James Bond is seen with champagne almost as frequently as he is with damsels in distress. Originally featured with Dom Pérignon, in the 1970's Bollinger took over. Today, Bollinger Champagne is the official Champagne of James Bond, even releasing a 007 cuvée.
Not restricted to movies, Champagne references became particularly prevalent in early hip-hop, thanks to the likes of Biggie Smalls. Bottles are popped with hosts of honeys in countless film clips, while in the track "Juicy" the Notorious B.I.G. raps "Birthdays was the worst days. Now we sip Champagne when we thirsty," to symbolise his rags to riches journey.
While today musicians often have stakes in the Champagne brands they name drop in their music (cough, Jay Z, cough) consider pouring one out for the late rap royalty next time you crack a bottle of Moët, Biggie's Champagne house of choice referenced in "Big Poppa''.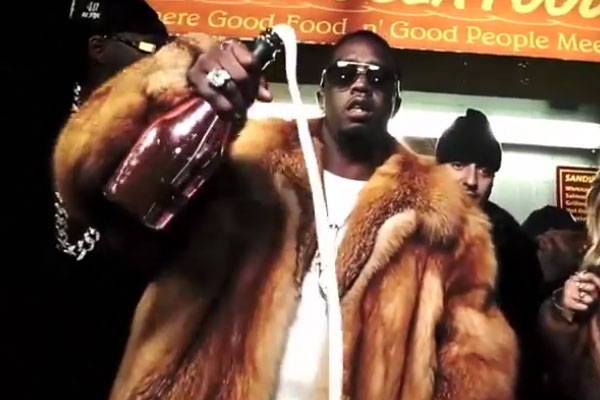 Despite what Hollywood would have you believe, creating a spectacle of flying cork and bubbles isn't the only way to open a bottle of Champagne.
While this method is great if you're christening your new yacht or celebrating a big win, more demure toasting occasions call for a different approach.
Ensure the bottle is dry on the outside before opening, then use that firm but gentle grip we know you've been practicing. Hold the cork with your dominant hand and the bottle with your other, then tilt slightly. Twist the cork until you hear one of the most arousal building sounds known to man (second only to having sweet nothings whispered in your ear). This light hiss is the sound of the carbon dioxide escaping the bottle and your signal of a successful open!
There's one other Champagne opening method that certainly isn't for the faint of heart or inexperienced! Sabering involves using the blunt edge of a knife (or sabre, if you will) to run along the bottle's neck with enough force to push the cork out of the bottle. Sacré bleu!
This tradition's roots are steeped in myth, most of which are linked to Napoléon Bonaparte and his cavalry in one way or another. Whether you prefer to believe it was Napoléon himself who unsheathed his blade and lopped the top off his bottles, or his soldiers who wished to impress the wealthy Veuve Cliquot (Veuve in French meaning widow) it's clear that passion is a prerequisite for the sabre open.
Today, like much of France's culture, Champagne is a symbol of love and celebration. Sharing a bottle elevates any moment shared between lovers, turning any day into a memorable moment! If there's two things (we at Frenchie) believe you should always have on hand, it's a bottle of lube and a good Champagne, à votre santé!
In the words of F. Scott Fitzgerald, "too much of anything is bad, but too much Champagne is just right."