easy open natural and vegan condoms
Regular price
Sale price
¥4,000 JPY
Unit price
per
Sale
Sold out
100% natural rubber latex condom
Electronically triple tested for safety
Unique Buttercup design (never guess which way is up!)
TGA approved and registered
Water-based Hyaluronic Lubricant
0.05mm ultra-thin
Low-odour & fragrance free
Vegan & Gluten Free
au Naturel & Free of Synthetic Ingredients
Made With:
Natural rubber latex, Cornstarch Powder, Hyaluronic Acid Libricant, Magnesium Carbonate
Made Without:
Parabens, Animal Products, Synthetic Colourants, Synthetic Flavouring, Glycerin, Gluten, Petrochemicals, Fragrance
View full details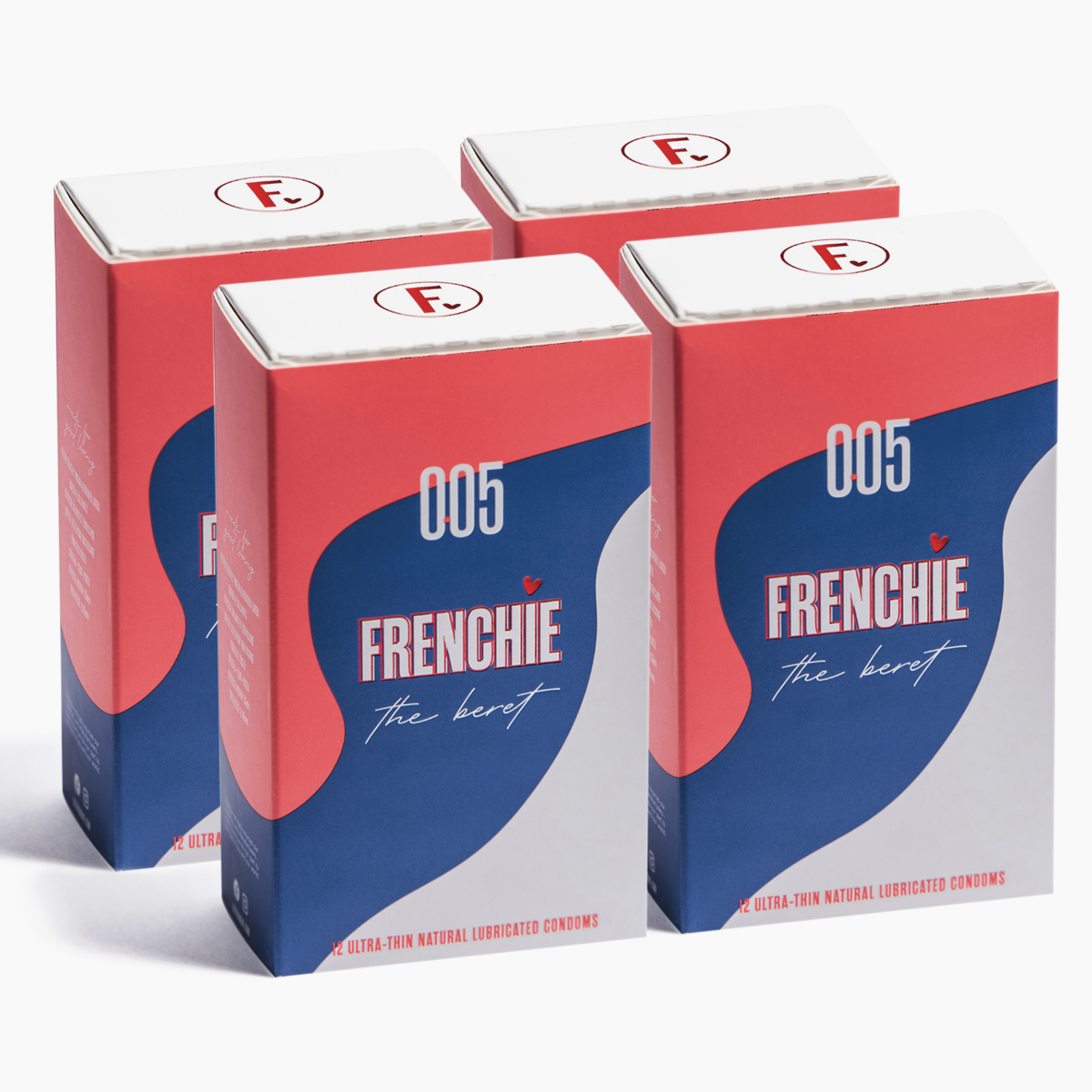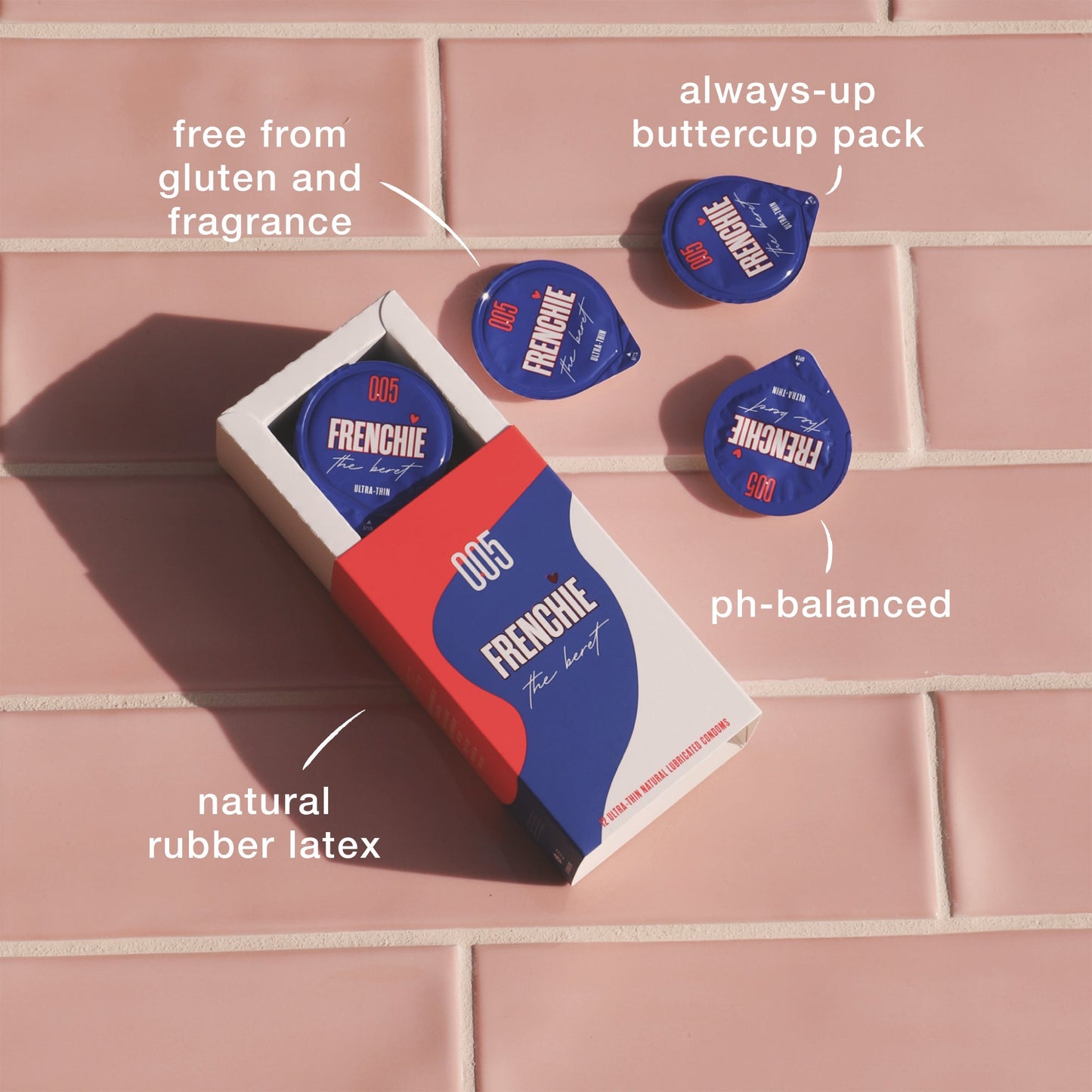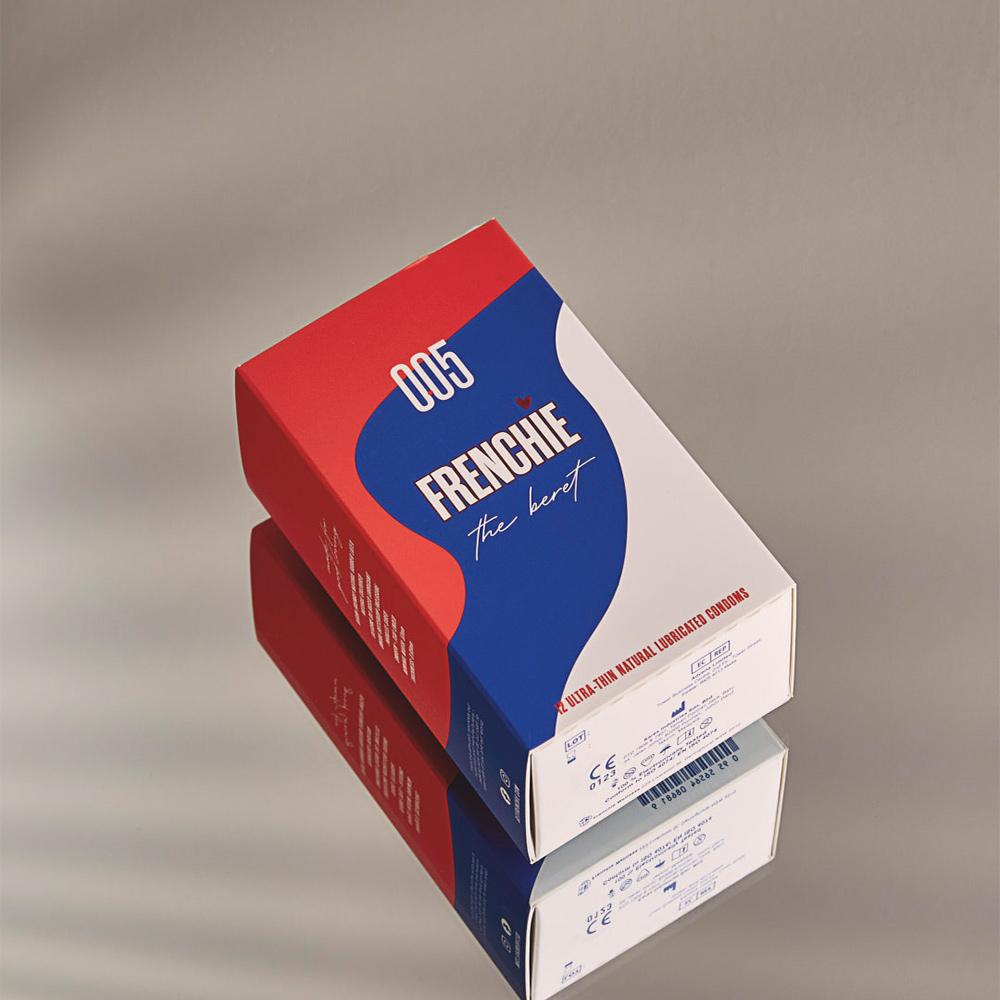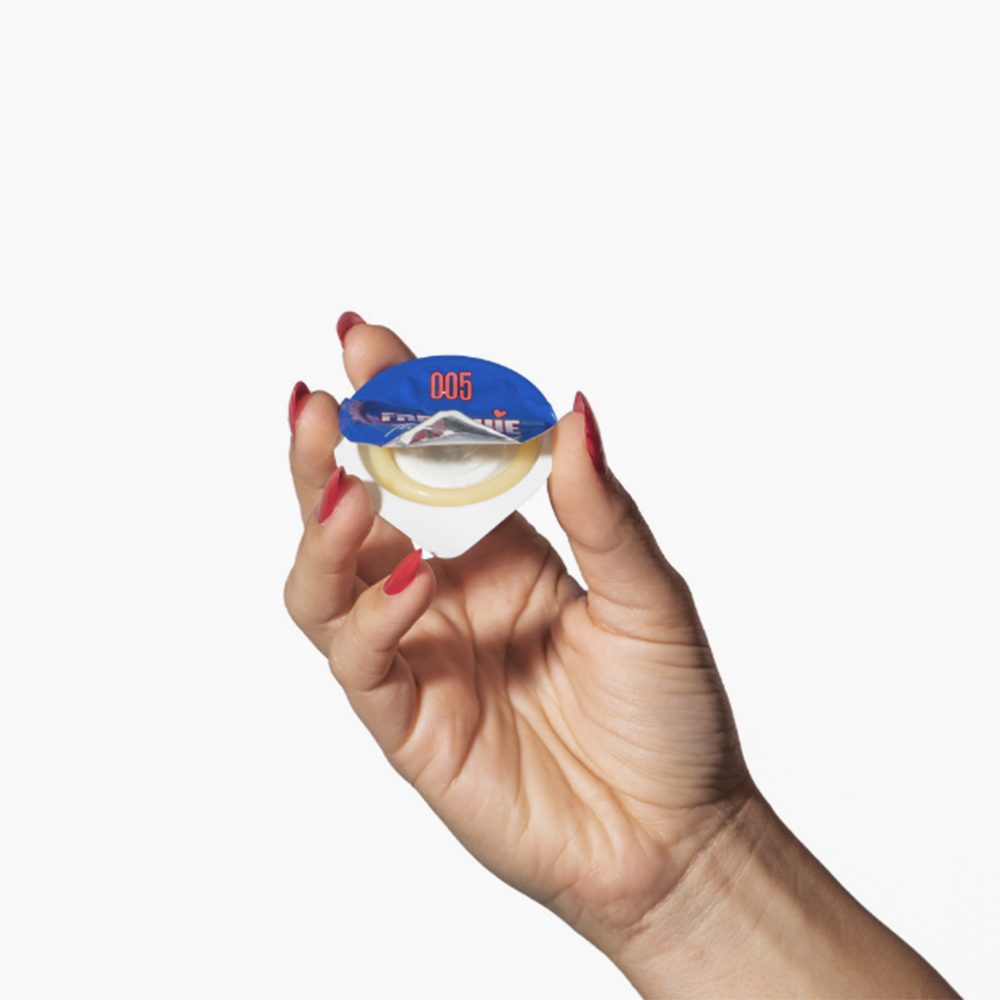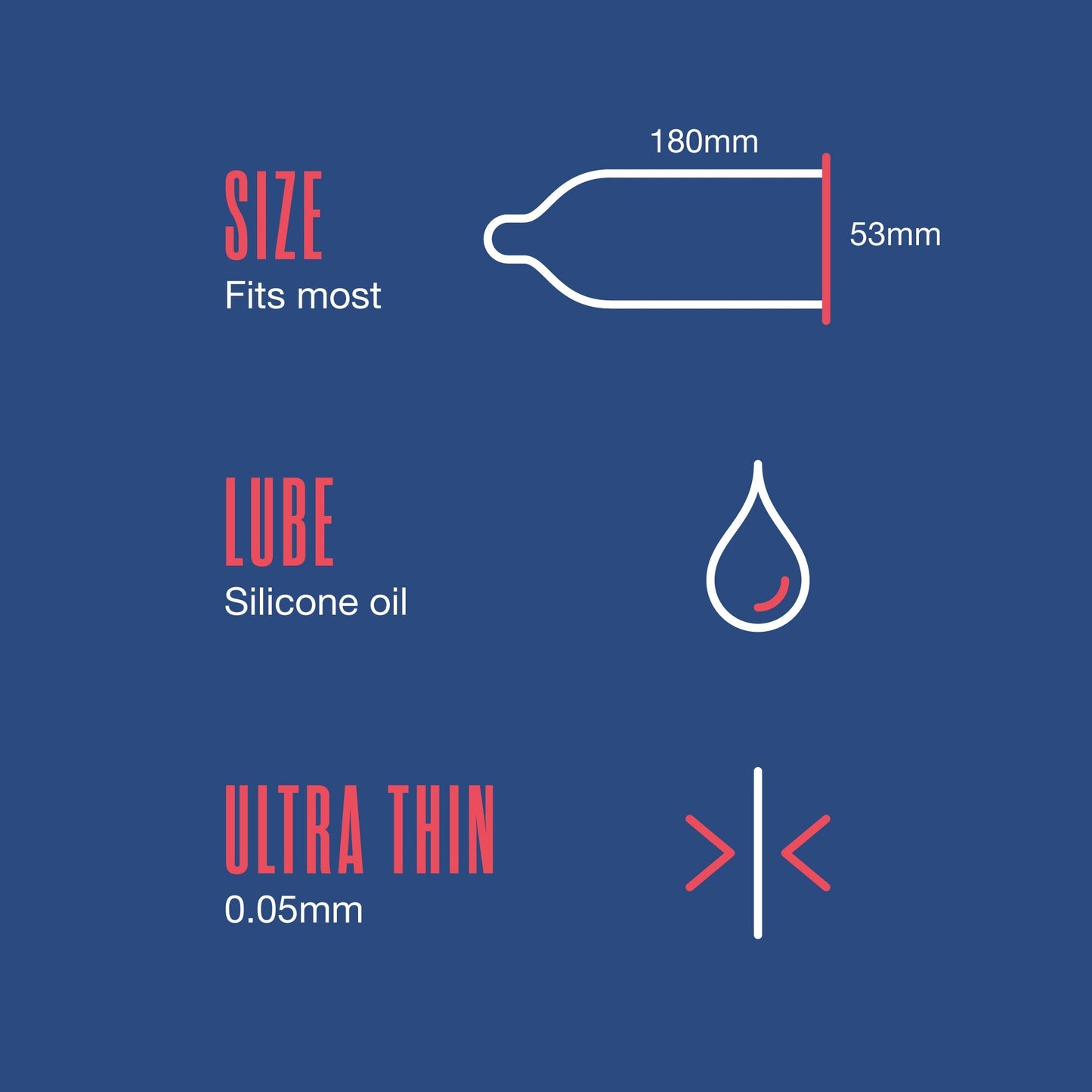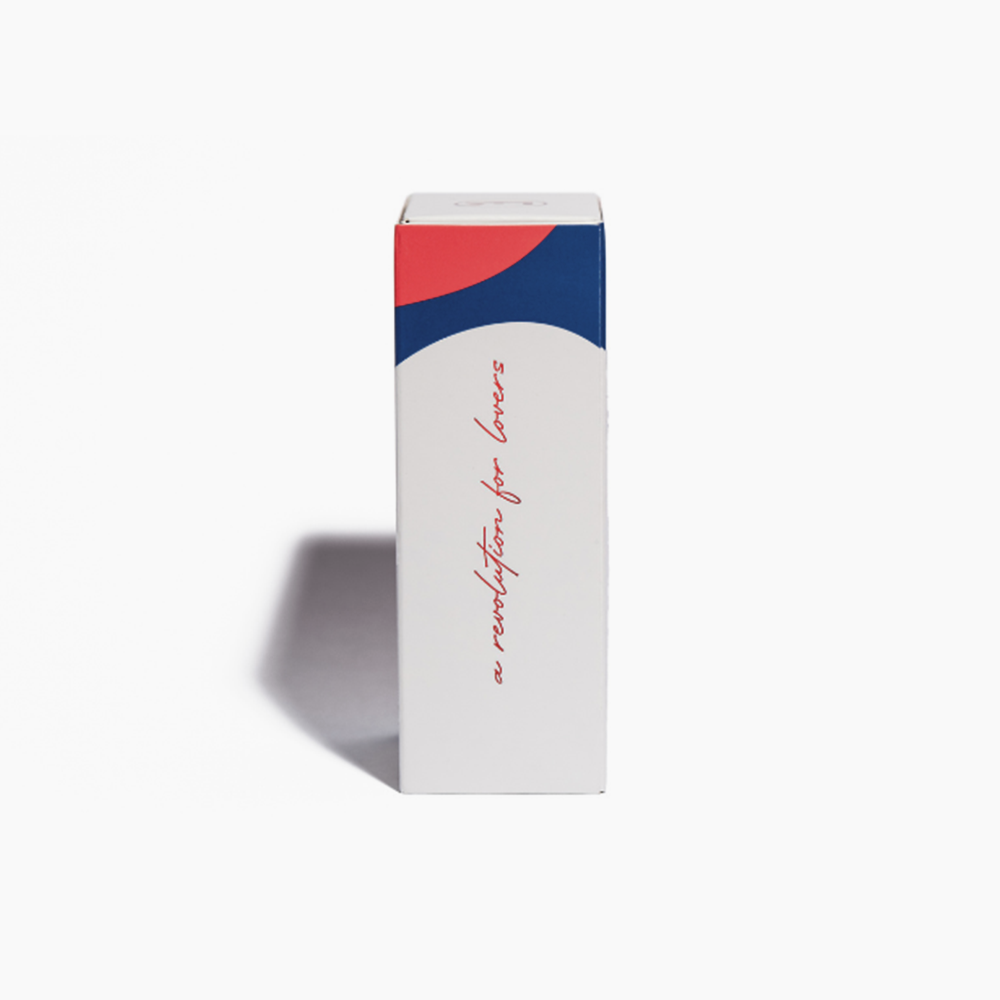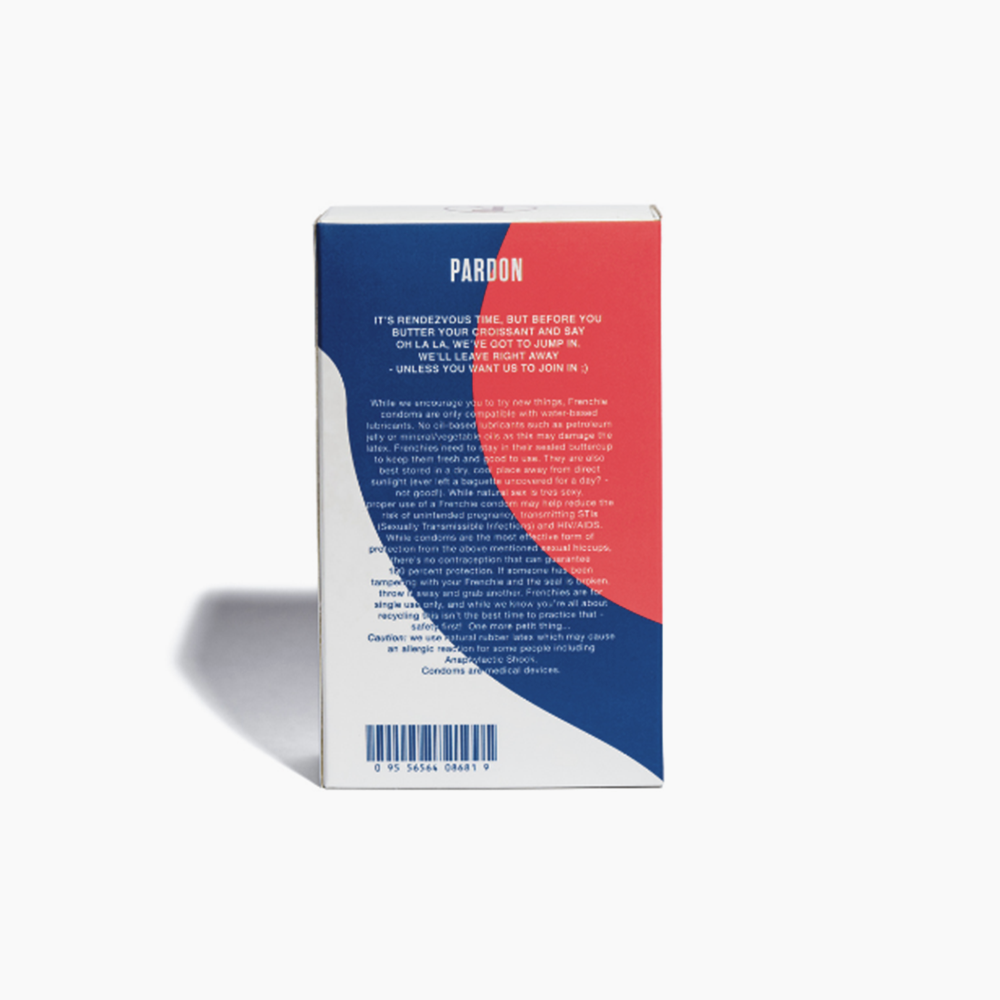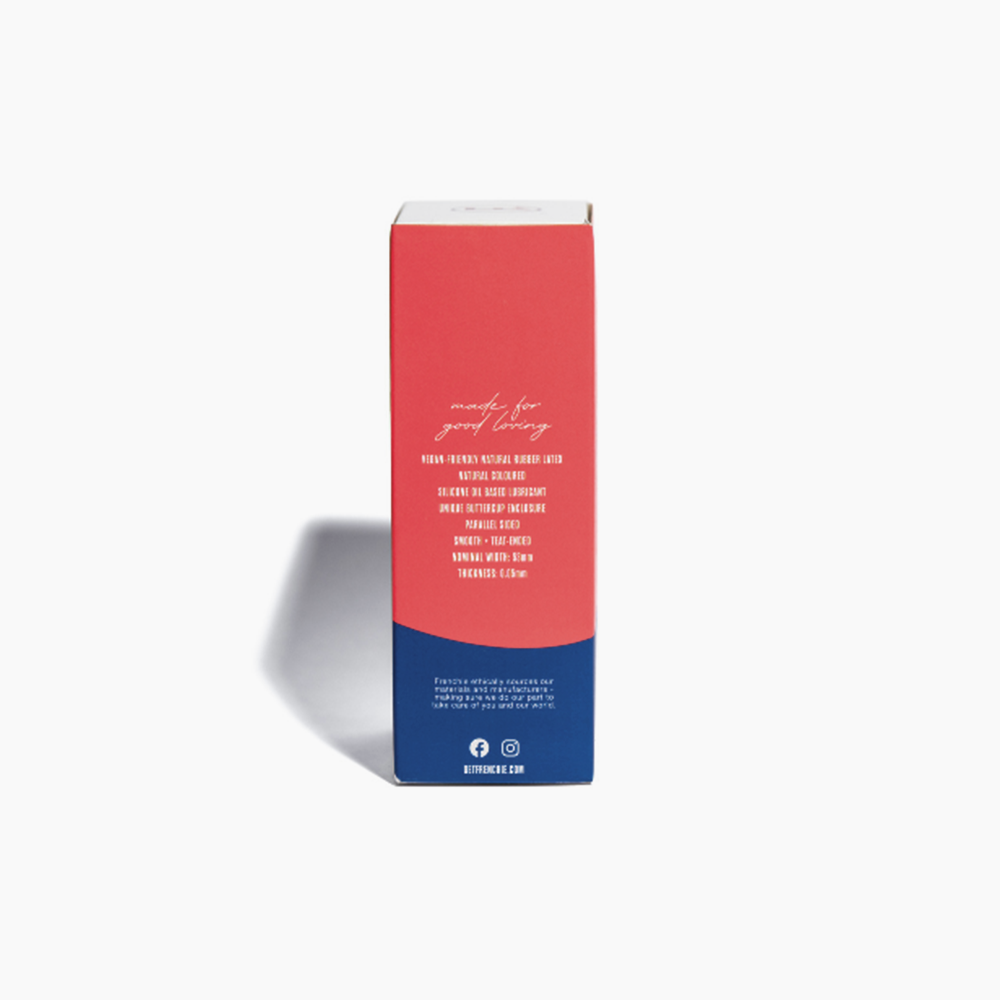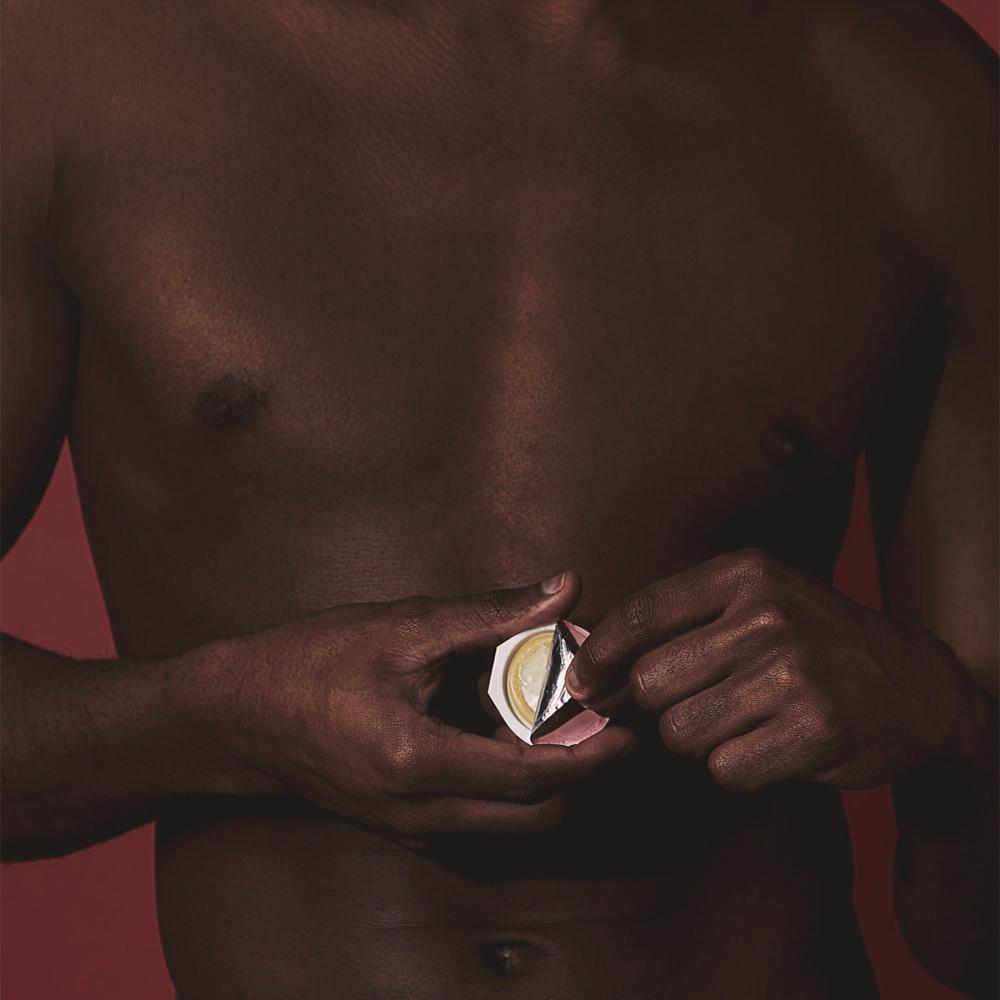 Unique Buttercup Enclosure

Means your beret condom is always facing the right way up

Cruelty Free & Natural

The only animals these are tested on are those in the sack. 100% natural and hypoallergenic for even the most sensitive skin

Ultra-Thin Latex

At just 0.05mm our beret condoms are one of the thinnest latex condoms available
Features
Description

While there's no rule book for sex, condoms are another story. Frenchie likes our stories to have happy endings, which is why we created the Frenchie Beret Condoms. The Beret Condoms are housed in an easy-open buttercup enclosure, meaning you open them the right way up, every time. Au natural, these condoms are created without any synthetic ingredients: better for you, the planet and your tastebuds. Size doesn't matter, but at 0.05mm, the ultra-thin design of Frenchie Beret Condoms let's you get up close and personal, while keeping everyone involved protected. Simple? Safe? Oui Oui!
FAQ's

Q:- What size is the 005 Frenchie Beret?

A:- The Frenchie Beret 005 is 53mm wide by 180mm long with a teat end. This is the most common size and should fit most comfortably. If you have a request for different size please tell us here

Q:- How thin is the condom?

A:- One of the thinnest latex condoms on the market, with a nominal thickness of 0.0055mm (a standard condom thickness is between 0.0065mm to 0.007mm thick). Yes very very thin, meaning maximum oh la la sexy time without compromising quality.

Q:- Is it safe to use and will it break?

A:- Our condoms are electronically triple tested for safety to ensure no accidental breakage. Manufactured in a world class facility in Malaysia and registered as a Class IIb medical device in Australia under the strict guidance of the Therapeutic Guide of Australia otherwise known as the TGA. Condoms when used correctly can be the most effective form of contraception and can reduce the likelihood of sexually transmitted infections transmission.

Q:- Will they make me a better lover?

A:- Unfortunately not hot stuff, they will however assist with unwanted pregnancies and act as a barrier to protect you from sexually transmitted infections. But look no further, we've got your back! Learn how to be an exceptional lover here

Q:- Do Frenchie's have the strong smell of rubber?

A:- Whilst they may not smell like Chanel No5 they do not smell like a burnt rubber or smelly feet. This is because during the manufacturing process the natural rubber latex is stripped and washed multiple times through the world class manufacturing line ensuring product integrity and quality.

Q:- What is the shelf life and expiry date, does it have one?

A:- Yes, each Frenchie beret is tested vigorously and guarantee a 5 year shelf life. Each box will have batch code and expiry date printed on the bottom.

Q:- Are your condoms vegan and cruelty free?

A:- Indeed they are, no animal by products such as Casein are used to strip the rubber latex during the production of Frenchie. We use 100% natural ingredients with no nasties or hidden surprises. That means no sugar, no animal protein, no chemicals, no gluten, no glycerine, no parabens, hormones or spermicides.

Q:- How shall I store my Frenchie Beret's?

A:- Please store out of direct sunlight and optimal storage temp of 15c – 35c. Once used please dispose of correctly in the trash.
Instructions For Use

DIRECTIONS FOR USE

BEFORE SEX

Check the expiry date on the bottom of your Frenchie buttercup (each condom will have a printed expiry date and batch number) Do not use expired condoms. For single use only!
Gently remove the foil seal from the buttercup, being careful not to damage the condom with fingernails, teeth or jewellery.
Condoms only roll one way, and thanks to Frenchie it's now easy to know which way that is. The condom is the right way up in the buttercup, so simply remove it from the cup by the reservoir tip.
Squeeze the reservoir end of the condom gently, between the thumb and the forefinger to expel the air out of the tip, while placing the condom over the head of the erect penis. This must be done before any contact occurs between the penis and the partner's body to assist in the prevention of sexually transmitted infectious and pregnancy. Trapped air can make the condom susceptible to damage during sex. Roll all the way to the base of the penis, but do not fully unroll the condom.
Check to make sure your condom is fitted properly. It should not be slipping off or excessively tight on the penis. This could lead to breakage or the condom falling off during intercourse.

AFTER SEX

After ejaculation, slowly remove the condom while penis is still erect so that the condom doesn't slip off. Hold on to the rim of the condom during removal to avoid leakage.
It is important not to permit the penis or used condom to touch the vagina or anus area after removal.
Tie the end of the removed condom and dispose of hygienically and thoughfully. DO NOT flush the condom down the toilet. Wrap it in tissue and place in a bin. In the event of the condom falling off or breaking during sex, withdraw the penis immediately and do not ejaculate. Your doctor can give advice on the best course of action.
Important Info

Chances are you're a pro at this, but just incase you forgot here's some information that will make sure you are getting the best protection and having the safest, sexiest fun possible.

BEFORE SEX

If extra lubrication is needed, use water-based lubricants only!
DO NOT USE OIL BASED LUBRICANTS such as petroleum jelly, mineral oil and cold cream, as they may weaken the condom and cause subsequent failure of the product. So can some topical medicines that are applied to the penis, vagina or anus. If you are not sure about the effect of the medicines you're using on condoms, ask your doctor or pharmacist.
Do not use the condom if the rubber material is sticky or brittle or the individual container is obviously damaged.
Seek medical assistance as soon as possible, at least within 72 hours should a condom leak or burst during use.
Condoms are for single use only, reused condom could increase the risk of breakage and infection.
When used correctly every time you have sex, latex condoms help prevent pregnancy, reduce the risk of transmitting HIV/AIDS and other sexually transmitted infectious.
No method of contraception can provide 100% protection against pregnancy or transmission of HIV and STIs. If you suspect that you or your partner may have become pregnant or infected, consult your doctor immediately.
If you are allergic to natural rubber latex products, consult your doctor for advice before use. Natural rubber latex can cause allergic reactions including anaphylactic shock.
Store in a cool dry place away from direct sunlight.
Keep away from children. Can choke or suffocate on uninflated or broken condom fragments.
Normal condoms are for vaginal use only, not for anal sex. Use of condom during oral sex increase the risk of asphyxiation or choking.
Condom is a medical device to be used by adults.
Any serious incident that has occurred in relation to the device should be reported to the manufacturer and the competent authority of the Member State in which the user and/or patient is established.
These condoms conform to International standards ISO 4074/EN ISO 4074
Super thin, no discomfort
I always had trouble with condoms. Firstly my partner hates wearing them (don't they all 🙄) but they often leave me feeling irritated and uncomfortable. I find that this doesn't happen with my Frenchies.
Would recommend giving them a try if you've got a sensitive lady garden 🪴. Plus a bonus is that I don't have to convince my partner to put these on, he's much more willing.
I am also obsessed with the packaging and the little individual packets.
Sorry, i wanted to love these but!
these are just too small in width and this was tired on an average girth penis.
I really wanted to love these due to the water base etc.
Great
My partner and I love these condoms. Only things is they are very tricky to roll all the way down the shaft and very tight once roll out fully. I've seen this comments from a few other reviewers. It would be great if they made one just that tab bit bigger.
luxurious and vegan friendly
Frenchie's condoms are SUPER CUTE! They're a luxury product. If you're looking for something a little extra to add as a gift or just to spice up the bedroom, I think these are the perfect way to do it. I'm in love with the buttercup design and the fact that they are vegan friendly!
Perfect choice
I love them and the packaging is great. The best thing is easy to open. I just find them a bit small in width, specially the ring is very tight and leaves a mark. Love them otherwise. Highly recommend
"Best Condoms We've Ever Used"
"I bought these because I wanted condoms that didn't have any bad chemicals or stuff in them, my boyfriend loves them and says they're not too tight. We tried another brand (Johnny) and much prefer the Frenchie ones as the others were too small and dry. Frenchie ones are the perfect fit and definitely the best we've ever tried!"
Brittany J
Choosing a selection results in a full page refresh.
Opens in a new window.